CORPORATE GIVING PLATFORM
Our platform uses an online branded form for your company to collect requests and a dashboard to
manage and quickly respond to all applicants. With our platform, you can save a significant amount of time
to process requests, track every aspect of your giving, and assure that every applicant receives a response.
WHAT WE
STREAMLINE
In-kind Giving
Event Sponsorship
Monetary Donations
Brand Ambassadors
Athlete Sponsorships
Employee Nominations
WHAT WE
PROVIDE
Branded online form
that sits on your website
with a Cloud-based
Management Platform.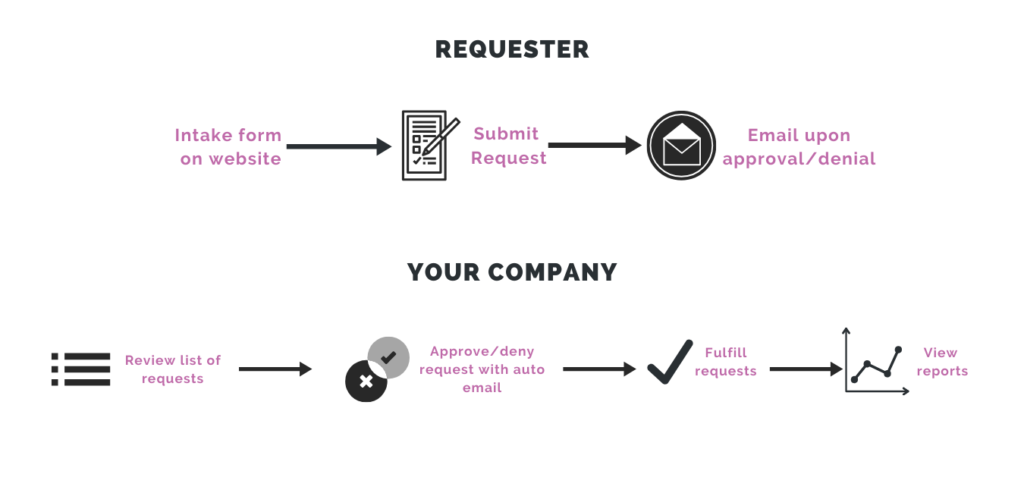 "I love that it is an automated form and we can stop using Excel spreadsheets for these requests.
I like that there is an approval process built in."
– Tracey F
FEATURES
Branded online form
Online form builder
Automated & customized emails
Batch denial
Document uploads
Cloud based
Customized reporting
Unlimited users
Request status tracking
Multiple brand management
.csv file download
Easy auto-reporting
Recommendation feature
Keep notes on requests